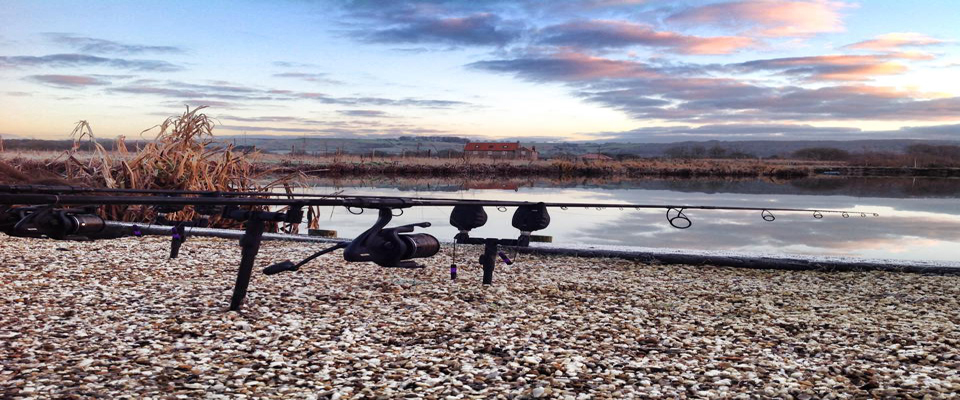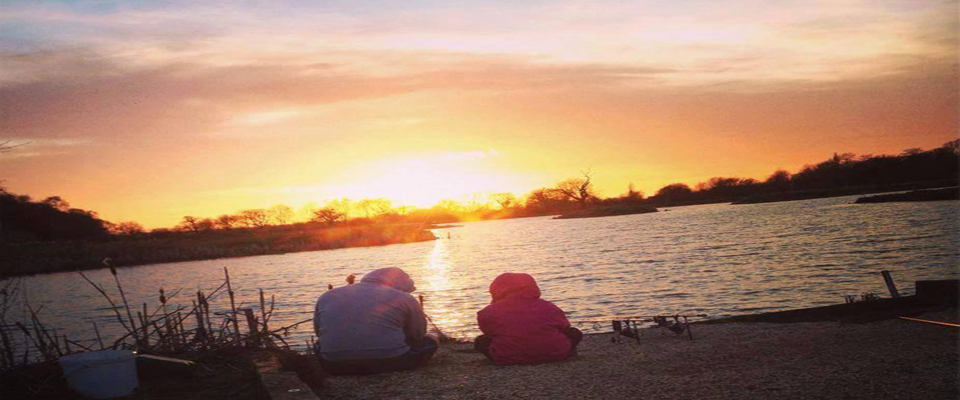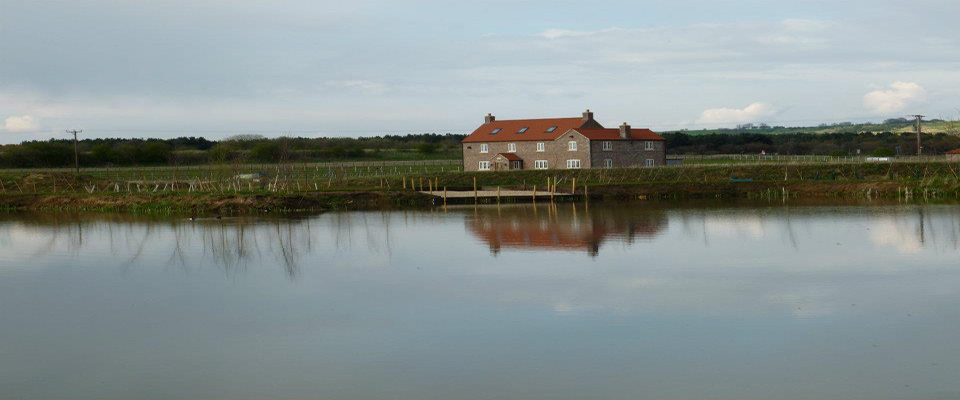 Old Mill Lakes is set in a rural location overlooking the Lincolnshire Wolds with stunning views. The 50 acre site was purchased back in 2006 by Chris Marler and Jo Thompsen from the local farmer with the intention of creating Lincolnshire's finest carp fishery. Originally the site of a small mill lake and house, much work has so far gone into realising this aim. Initially only Willow existed on site and this was first stocked by Humberside Fisheries in the winter of 2006/07. A total of 88 fish were stocked with 40 of these between 6lb and 9lb and 48 of these between 9lb and 13lb with one common stocked at 16lb ("Peach Common"). These were backed up by a further 200 fish from the same suppliers farm that were generally between 1lb and 6lb. In the winter of 2007/08 the stock ponds were stocked with ~1000 fingerlings after spawning some of fish Chris had purchased the year previous.
The fish were fed regular with pellet during 2007 and 2008 before being opened up for angling in late 2008. The fish had thrived during this time with many fish having pushed through 20lb and the average size getting to around mid-doubles. Over the next 2/3 years growth rates on the fish dropped off alot with angling pressure and the biomass within the lake getting to a point where further weight gains would not be possible without thinning out the stock. Even during this time the fish did continue to grow but whereas they were all looking pretty plump in 2008/09 by 2011 they were looking longer an leaner at the same weight and ready to push on again.
Stocking: Winter 2006/07 Between: 6-9lb & 9-13lb



Stocking: Winter 2007/08 Averaging: 8oz-1lb





Planning permission was put in during 2010 for another lake and stock pond to be added to the complex. In April 2011 work began on digging the next lake on site, known today as "Birch". The digging work took approximately 2 months to complete with a further month waiting for the lake to fill up with water. At this point Birch extended to about 4.5/5 acres. Birch was originally stocked with 80 fish in 2011/12 and these were hand picked from over 1500 fish on-site spread across the two stock ponds and Willow and ranged in size from 10lb up to 30lb and averaged around 21lb. In their new home these fish have not looked back, with the average size of the fish getting to around 26lb by the end of 2012 and a total of 12 fish breaking through the 30lb barrier in the first year!
Birch was extended to around 8 acres in Autumn 2012 before the whole site was otter fenced the following Autumn 2013 with a state of the art otter fence. Now that the site is protected from otter predation and the stock in each lake such that there is plenty of room for good growth the future bodes well! The fish in Birch have done phenomenally well over the past 5 years. To give you an idea of the growth rates "Big Common" was moved across to Birch at 26lb and has topped 45lb+; "Pitchers fish" was moved across at 23lb and has topped 42lb+; "Power's" was moved across at 24lb and has topped 43lb+; "Snowy's" was moved across at 22lb and has topped 40lb+; "Mitre Delta" was moved across at 26lb and has topped 43lb+; "Big Paul's" was moved across at 28lb and has topped 47lb+ and "Shoulders" was moved across at 22lb and has topped 41lb+. Will 2017 bring Old Mill's first fish over 50lb? Exciting times indeed!
Birch Digging: Spring 2011



Extending Birch: Autumn 2012